Problem
We're sorry! An error has occurred. The following files failed to produce:
_config.xml config_xml.js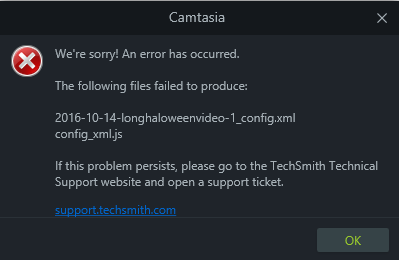 Solution
This is a known issue that is fixed in Camtasia 9.0.4 and later. Select Help > Check for Updates in Camtasia to install the latest version.
If you are unable to update Camtasia, follow the steps below to resolve the issue:
Close Camtasia.
Browse to this folder: C:\Users\<username>\Documents\Camtasia Studio\Custom Production Presets 9.0
Delete all the XML files that are in the directory (make copies if you have custom files you do not want to recreate).
Restart Camtasia. The default presets will automatically get put back in the folder and fully work when producing.