Problem
After updating to the Windows 10 Creators Update, when I try to launch Snagit 13 from the start menu, I receive the following error and Snagit fails to launch.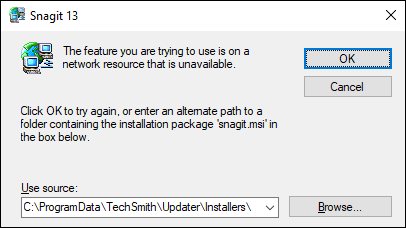 Solution 1
This is a known issue we are currently investigating. As a workaround, please repair Snagit using the steps below.
Run the EXE file by double clicking it. 
if you are prompted with the screen below, choose Repair. 




Once complete, try Snagit again. 
Solution 2
If the recommendation above does not work, then please try reinstalling Snagit using these steps.
Make sure you have your license key before uninstalling Snagit.
Reboot your computer