Problem
When attempting to save my project I get an error stating it is unable to save the project.
Solution
Make sure the the project name or the name of an imported media file doesn't contain a symbol such as &, %, $, *.
Attempt to save to the local hard drive instead of a Network/Share or Cloud drive (Google Drive, Dropbox, iCloud synced drive)
If you didn't save your project as a Standalone project and/or one of the media files has been moved, deleted, or renamed while editing the project then move your media files associated with your project back to their original locations and try saving again.
If the project can't be saved after importing a media file, try temporarily moving or renaming just that file.
Move contents on timeline to a new project:

Select all the contents on the timeline by hitting Command + A on your keyboard
Click on Edit>Copy at the top left of your monitor
Click on File>New Project
Click on Edit>Paste and you should see the content paste into the timeline
Click on File>Save As... and see if you are able to save the project to your local hard drive

Restore from a backup copy of the project if all else fails:

Right click (control + click) on the .cmproj you cannot open and choose Show Package Contents
Follow the steps in the following GIF and then go back to the .cmproj and try opening it: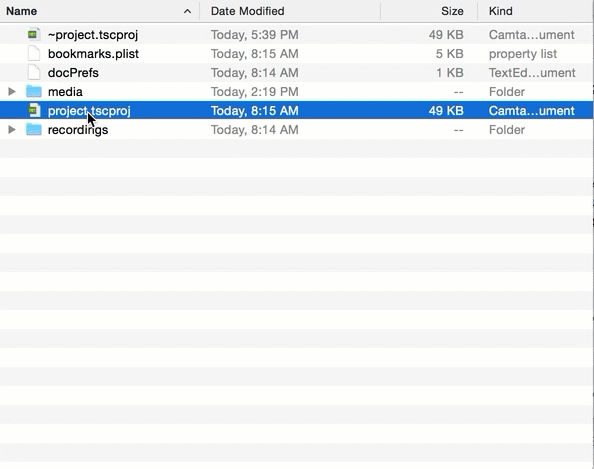 If none of these options help please submit a ticket to Support.