Problem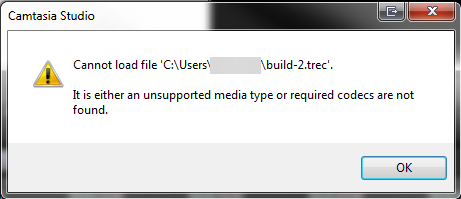 Solutions
First, be sure that the file you are importing is a supported format by Camtasia Studio. See the article below for a list of supported formats: Which file formats can I import into Camtasia Studio.
We have seen ByteFence cause this error and corrupt the TREC files. Uninstalling ByteFence via Control Panel>Programs and Features will correct the issue.
If you are importing an MP4 file, be sure that it is encoded in the H.264 codec. That is the only codec that will work when importing MP4 files to Camtasia.
If you are importing an MOV file please see the following article. Or if you are bringing this file in from an iPhone 7 or newer running iOS 11 you can change the video format by going to Settings->Camera->Formats and setting this to Most Compatible.
If you are importing an AVI file be sure the codec the AVI file is encoded with is installed on your machine. For example, if the AVI is using the Xvid codec you must install the Xvid on your machine.
If you are getting this message with a TREC file after you just finished a recording, it's possible the file could be corrupt and unrecoverable.
If you are not sure about any of the steps above or they do not apply to you, please submit a support ticket here and we will troubleshoot your issue.