Problem
Choppy playback in the timeline occurs most often with high bitrate files. Most files coming directly from a HD camera have a high bitrate. MOV and MTS files are good examples of files we see this often with. There are a few things we can try to improve the playback performance in Camtasia.
Solution
1) It has been reported from a few users that changing their power settings on their laptop to "High Performance" resulted in being able to edit the timeline smoothly: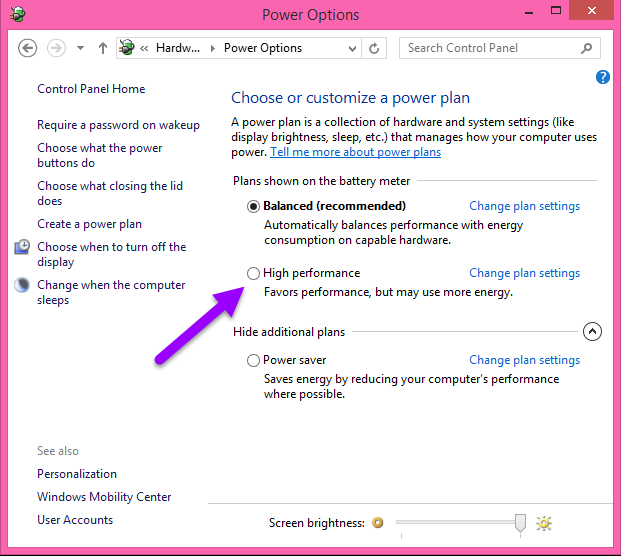 2) Making sure the Project Settings or Editing Dimensions are the same as the source media: If you import a 1920x1080 video and have the project/editing dimensions are set to 1280x720, this causes Camtasia to scale the video which uses more processing power, which will take away from the power we need to play the file back smoothly. For best performance, try to keep the editing dimensions and the source media dimensions the same. In Camtasia 9, you can right click on the media in the Media Bin and choose Details to find the Width and Height of your media.  See below for an example in Camtasia Studio 8: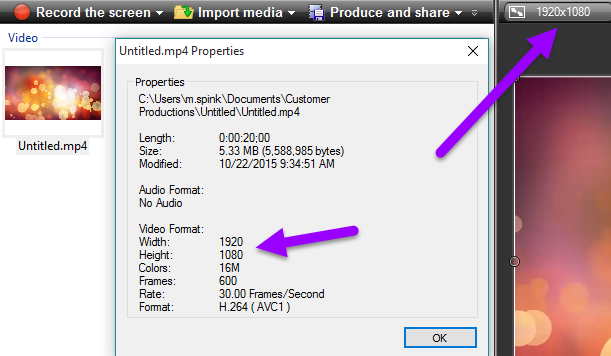 3) We have also seen certain Behavior effects cause slowness in the preview window. One workaround specific to that would be to click on Edit > Preferences > Advanced tab.  Under hardware acceleration change that drop down to "use software-mode only".  Then close and re-open Camtasia and your project to see increased performance specific to behaviors. *We suggest trying this even if not using Behavior effects and having playback issues.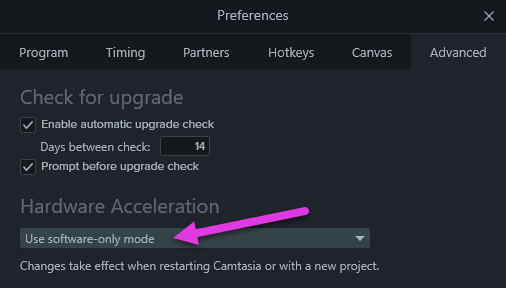 4) Another workaround we can try is to re-encode the video to MP4 using Handbrake. Camtasia is able to work faster with MP4 files and the re-encoding process will reduce the high bitrate while still keeping the quality of the video. For a video on how to using Handbrake to do the re encoding see here.