Problem
High bitrate files may play back choppy on the timeline. High bitrate files commonly include files recorded on a HD camera, such as MOV and MTS files.
Solution
The following items may improve playback on the timeline in Camtasia:
Change the power options on your computer to High performance.

To improve performance, make sure the Editing Dimensions are the same as the source file. For example, if you import a 1920x1080 video and set the Editing Dimensions to 1280x720, Camtasia may use more processing power to scale the video.
To view the source file dimensions, right-click the file in the Media Bin and select Properties (Camtasia 9) or Details (Camtasia 8).
To view the Project Settings in Camtasia 9, select File > Project Settings > Canvas Dimensions.  In Camtasia 8, see the example below.

Some behaviors may cause delays in the playback in the preview window. To improve performance, select Edit > Preferences > Advanced tab > Hardware Acceleration and choose Use software-only mode. Close and re-open Camtasia. We recommend setting this option even if your project does not include behaviors on the timeline.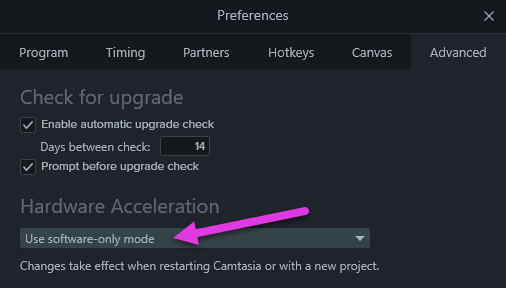 To improve the performance and reduce the bitrate, convert the video to MP4 using Handbrake. See this article.