Problem
Receiving an error, or nothing happens when I try to install Snagit outputs/accessories.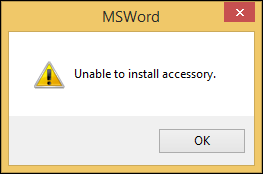 Solutions
We have identified 3 different causes for this behavior. Each are explained below. Please note, that it is possible to be running into more than one of these at the same time. For example cause 1 combined with cause 2.
Cause 1: Snagit Bug in 13.0.2
A bug was introduced in Snagit 13.0.2 that will result in nothing happening when trying to install a Snagit output. Please follow these steps to install the output.
Close Snagit so that it is not running at all. To do this, locate the small Snagit icon in the notification area (by the clock) and right click on it and choose Exit. You can make sure Snagit is completely closed by opening your task manager (Ctrl + Alt + Delete) and making sure that Snagit32.exe, SnagitEditor.exe, and SnagPriv.exe are not running.




Download the desired output from our outputs page here
Install the accessory by double clicking the file that was downloaded
At this point you should receive confirmation that the output has installed successfully. We are working on fixing this bug, and hope to have a fix available in a future release of Snagit 13.
Cause 2: McAfee Security
We have found that McAfee has been causing us some installation problems with their new versions. If you have McAfee installed you will want to do the following before installing Snagit (or any accessories):
First go to your system tray and right click on the McAfee Icon then please choose Change settings >> Real-time Scanning as shown in the image below.






After the McAfee window opens up, you will want to click on the Turn off button as shown in the image below: 






After you click Turn Off, you will get a popup asking how long you want to turn the service off.  This is mostly a preference and computer based setting. If you need a long amount of time to complete the installation, you can choose "When I restart my PC."  After you select the length, you can click Turn Off. 






After you have completed this, you will need to restart Snagit completely. Hover over the top of the Snagit capture window (blue bar in 12 or red circle in 11) then click on the gear icon and then choose Exit Snagit. Please also make sure the editor is closed as well.
Start Snagit again from your start menu and then try to do the installation of the accessories you were having a problem with. It should complete the installation now without error. 
Cause 3: Browsers
Some browsers change the extension from .snagacc to .zip - when this happens they will not immediately install. 
Right click on the downloaded output/accessory and choose Rename. 
Change the extension from .zip to .snagacc
Double click the file again and see if it works
Note: If you do not see extensions on your files, you may have to go to Start > Control Panel > Folder Options > View tab and un-check "Hide extensions for known file types."