Problem
After capturing, the following error message appears.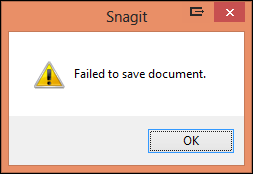 Solution
First make sure that you have the latest build for the version of Snagit you are running. All versions can be downloaded here.
If already running the latest build for your version, then behavior is most commonly caused by some sort of security software interfering with Snagit. Some examples we have seen are:
Kaspersky Antivirus
BitDefender 2012
ByteFence
First try disabling the security software and trying Snagit again to see if the problems continue. If the security software is the cause of the problem, try adding the following processes to the white list, or exception list within the security software:
Snagit32.exe
SnagPriv.exe
SnagitEditor.exe
If the problem continues, please submit a support ticket with us to troubleshoot further.