Problem
When recording with Snagit 13, Snagit will attempt to utilize hardware on your computer to help with the video encoding process, if your computer has hardware capable of doing so. If not, then software encoding is used. Depending on the specifications of the computer and the hardware, it is possible that some of the following symptoms may occur in this case....
Out of sync video
Dropped video frames
Poor performance
Distorted audio
Error message
Solution
There are various options to try to improve the overall performance when recording a video using Snagit. This will vary from machine to machine, however these are the most common solutions to most of common issues.
Minimum Requirements
Make sure that the system you are using meets the minimum requirements for Snagit 13 and video capture.
Disable the web camera through Snagit
If you are not recording the web camera, then disabling the web camera can help improve overall performance. 
Make sure you have Snagit 13.1 or later installed. The latest version can be downloaded here. 
Open the main Snagit capture window
Browse to the file menu File > Capture Preferences > Capture tab
Uncheck the option to "Enable Webcam"
Select OK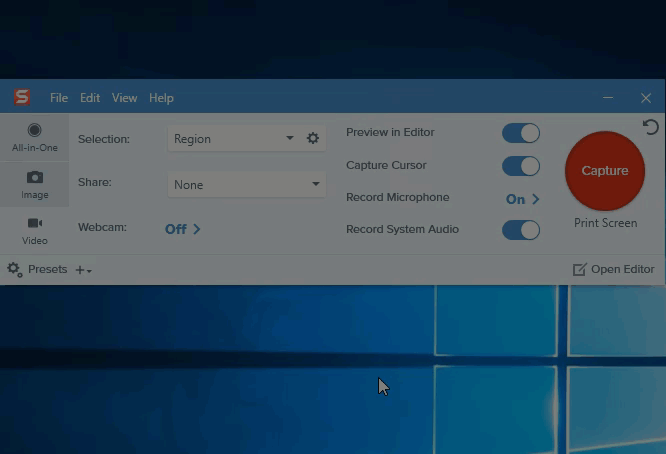 Update system drivers
Many problems can be resolved by simply updating the hardware drivers on your computer. This is done by visiting your computer manufacturer's support site, and looking up your model computer to see if there are any updates available.
While Windows attempts to find these automatically, many times there are more recent ones available.
Some of the most popular manufacturer's support sites are listed below.
Change Snagit to record in software-only mode
We can change how Snagit records behind the scenes, so that it uses software mode instead of hardware mode. Depending on your machine, this can help performance when recording video in Snagit.
Close Snagit so that it is not running at all. Make sure by checking in the system tray (by your clock) - if you see a Snagit icon there right click on it and choose Exit.
Unpack the zip file by double clicking it.
Run the "softwaremode.reg" file by double clicking it. Click OK to the prompts.
Restart Snagit and try it again.
Close unneeded programs
Programs that are running in the background may be actually taking up valuable resources that Snagit could benefit from. Try closing out of any programs that are not needed before recording a video in Snagit.
Lower the video quality
Snagit is capable of recording at three different quality settings listed below. By default, Snagit will choose the Medium quality setting. If you are noticing performance issues, try lowering the quality using these steps.
Open the main Snagit capture window
Browse to the file menu File > Capture Preferences




Select the Capture tab
Adjust the Video Quality setting
| Quality Setting | Recording Resolution | Capture Frame Rate (up to) |
| --- | --- | --- |
| Low | 1080p | 10 FPS |
| Low | 4K | 10 FPS |
| Med | 1080 | 15 FPS |
| Med | 4K | 10 FPS |
| High | 1080 | 30 FPS |
| High | 4K | 10 FPS |
Try a different microphone
If you are recording audio, try using a different microphone to see if the performance is any better. We recommend direct USB microphones for best performance with Snagit (rather than connecting through an audio interface, or via Bluetooth).
Change performance settings
Many lap top computers have a way of adjusting the overall performance of the machine. This can usually be done by going into the Control Panel > Power Settings category, and see if there is an option to run at "High Performance."
4K
If recording at 4K resolution, change the recording quality to low, and choose to scale the recordings. Since the maximum capture frame rate for 4K video is around 10 frames per second anyway, changing to low quality will output the same as the high quality option in this case, except it will not be asking more of the system resources.
Open the main Snagit capture window
Browse to the file menu File > Capture Preferences




Select the Capture tab
Adjust the Video Quality setting to Low
Make sure Scale captures to 1920x1080 is checked


Contact Support
If all else fails, submit a ticket using the button at the top of this page to contact our Support team for further assistance.