Problem
When Exporting a project from Camtasia Mac 3, the resulting video is black or a section of the video is black (no video but audio is still playing).
Possible causes:
Most of the cases we have encountered have been on OSX 10.10 with a machine that has 4GB or RAM or less. 
Solution:
This issue should be resolved with the update in version 3.0.4. If you are on an earlier version of Camtasia Mac 3, you can download the update by opening Camtasia and going to the Camtasia menu and choosing "Check for Updates" as seen here: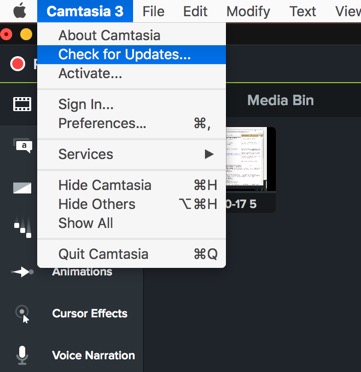 If you are having any issues checking for updates, you can also download the update from the following link: HERE  
If this workaround does not seem to resolve the problem, please contact support for assistance.