Problem
How do I capture a drop down menu using Snagit?
Solution
Snagit 13 and later
Use the Menu option to capture a dropdown or cascading menu.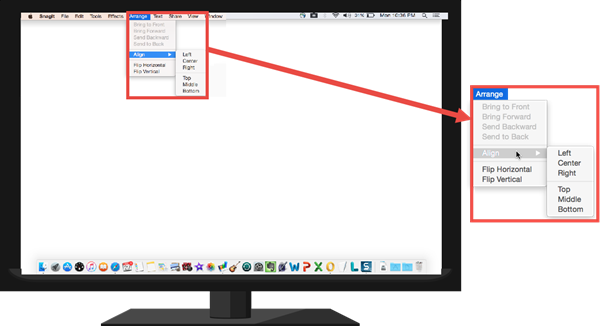 In the Capture window, select the Image tab.

In the Selection dropdown, select Menu.
Click the Menu Properties button.



Capture opened sub-menus: Capture the open flyout or submenus.
Capture menu bar: Capture the menu bar label with the menu capture.

Enable the Time Delay option to set up additional time to open the menu to capture on the screen.
Select the Delay option and set number of seconds for the delay.
Click the Capture button or press Print Screen.

The countdown begins. Open the desired menu. Move the cursor over the menu to capture.
TIP: Save a Preset
To save the capture settings for future use, select Add Preset dropdown > New preset from current settings.
Did you find what you were looking for? Provide feedback.
Snagit 12
First we need to set up a delay capture profile in Snagit.
Hover over the Snagit capture window, then click on the button below the red button, and choose Manage Profiles
Click New Profile, and then name the new profile
Click the timer icon at the bottom under settings.
Adjust the delay to your liking, click Apply > OK
Assign a hotkey to this profile
Click Save and close out of the Profile Manager.
Now, when you hit that hotkey you specified (or click on the profile name from the capture window), you will notice a countdown timer in the bottom right corner of your screen. While that is counting down, bring up the content you are trying to capture (for example a right click menu) and hold it on the screen. Once the timer completes, the screen will freeze and the cross hairs will appear allowing you to capture that content.