Problem
When attempting to launch or perform some action in Snagit, the following error message appears: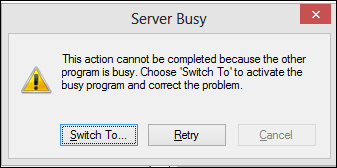 Solution
This error can occur for a number of reasons. There may be another process using the same file that Snagit is using, there may be a problem in Snagit, or there may be some third-party software conflicting with Snagit. There are various options to resolve this solution.
First, make sure that you are running the latest build available in Snagit. To check what version of Snagit is currently installed, please follow these steps below:
Snagit 13 and Later
Open the Snagit Capture or Snagit Editor.
Select Help > About Snagit.
Snagit 12
Open the Snagit Editor.
Select File > Help > About Snagit.
Download the latest version from our downloads page.
Installing the latest Windows updates will ensure that all dependencies and system files that Snagit requires are up to date.
Windows 10
Click the Start menu.
Click Settings.

Click Update & Security.
Click Check for updates.
Windows 8
Click the Start menu.
Click the PC Settings.

Select Update and Recovery.
Install any available updates under Windows Update.
Windows 7
Press Windows+R on your keyboard to open the Run window.
Type the following and click OK:

control panel

Click Windows Update.
Click Check for Updates.
This varies from machine to machine. The best way to check for the latest drivers is to visit the computer manufacturer's web site and search for your model computer