The TechSmith Support Tool is a utility designed to make it easy to send Technical Support various files for troubleshooting. The information below describes what the tool does, and how to use it. The tool is only available in Snagit 2019.0.1 and later.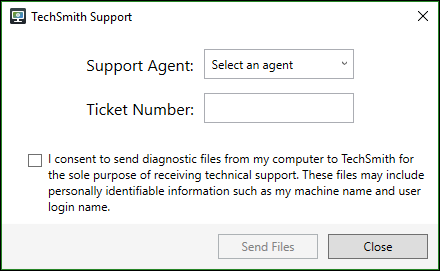 This tool should only be used if it is directed by a TechSmith Support Specialist.
How to Use the Tool
The tool can be launched two ways:
If you are able to open Snagit, click Help > Technical Support > Launch Support Tool.
If you are unable to open Snagit, browse here: C:\Program Files\Common Files\TechSmith Shared\Support\

Then double-click the TechSmithSuopportTool.exe application.
Once the tool us running, follow these steps...
Select the agents name who you are working with from the Support Agent dropdown.

Enter the ticket number (provided by the agent) in the Ticket Number field.

Read the terms, and select the box to agree to the terms.

Click Send Files. This step may take multiple minutes to complete.


Once you see the Success message, let the agent know that the process has finished.

What Information is Sent?
The tool uploads 4-5 diagnostic files to Technical Support.
1: DirectX Diagnostic Report (DxDiag)
This file offers information about the systems hardware, operating system, and hardware drivers. This is very helpful in troubleshooting many different technical issues in Snagit. More information about the DirectX Diagnostic Report can be found in this Wikipedia article.
2: Features.json File
This is a JSON configuration file used only by TechSmith software. This includes settings that can be altered to affect how the software is running, so that it can be optimized for your machine.
3: SnagDiag Diagnostic File
This file contains information about the current settings that are set in Snagit.
4: RegInfo.ini File
This file contains the Snagit registration information.
5: Crash Reports (DMP)
If a crash report is found for Snagit, then the tool will only send the most recent crash report. These are also sometimes referred to as "crash dump files." A crash report is helpful in debugging and troubleshooting problems with the application when it is crashing unexpectedly. The crash report will likely be a fairly large file, and contains information about what is loaded into the computer's memory at the time of the crash. More information on crash reports can be found in this Microsoft Support Article. If no crash reports are found, then no reports will be sent.