Problem
The Snagit Library is set to cloud storage, however I am seeing slowness or not all of my captures appear in the Library.
I am seeing the following error when trying to view a capture:
"The file couldn't be opened. The document is corrupted, unsupported, or was made by a newer version of Snagit."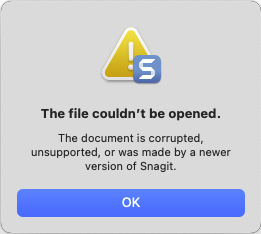 Solution
First, make sure the latest updates for your version of Snagit are installed. From the menu bar, select Snagit > Check for Updates to install updates. Snagit 2022 is the first version of Snagit to support storing the Library in the cloud.
For Snagit to detect a supported service automatically:
The application must be installed locally, meaning not accessed only by a web browser.
The application must be set to actively sync.
Within the Google Drive Preferences make sure Mirror files is set within syncing options.



Within the macOS System Preferences in the Apple ID settings make sure Optimize Mac Storage is not checked.



Within the OneDrive Preferences select Download all OneDrive files now.