Problem
When opening Snagit , one of the following error messages appears:
"Unable to start Snagit. If this problem persists, please contact Technical Support."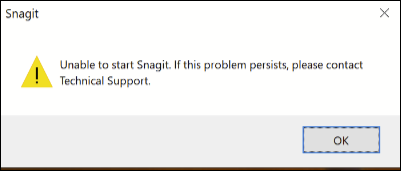 "The key entered is not a valid software key. Check the key you entered for errors or try a different key."

Or if you're seeing this trial expiration message, even though you've already entered a key in a prior instance of Snagit.
Solution
We are currently experiencing issues with our activation provider, and our development team is working hard to resolve this issue as quickly as they possibly can. We apologize for the issues this is causing, and the steps below might help get you up and running while we work on a permanent fix for this issue.
Option 1
Wait 10 to 15 minutes, then try your activation again. If that still doesn't work, confirm you're on the latest version of Snagit. You can download and install the latest version to see if that corrects your issue.
Option 2
Please try these steps:
Close out of Snagit so it is not running at all. Make sure by opening your Task Manager (Ctrl + Shift+ Esc) then click on the More Details if possible. Then make sure that Snagit Capture, SnagPriv, Snagit Editor, and any other Snagit processes are not running in Applications or Background Processes.
Hold down the Windows key on your keyboard and hit the R key to open the Run window.
In the Run window, type the following and then hit Enter: C:\Users\Public\TechSmith\Snagit
Delete the License folder you see here.
Run Snagit as an administrator. (Note: If you're not able to run as an administrator, these steps may still resolve your issue.)

Option 3
If Option 1 or 2 do not work, please start a Technical Support ticket with us and include the following files:
Open the following folder: C:\Users\Public\TechSmith\Snagit\License
Send all the files you see in this folder when you submit your ticket. You can send them individually (they are small enough) or you can zip them up and send them as a .ZIP file by highlighting the files, then right click and select Send to > Compressed (zipped) folder