Problem
"We are unable to contact the TechSmith server. Please check your connection to the Internet."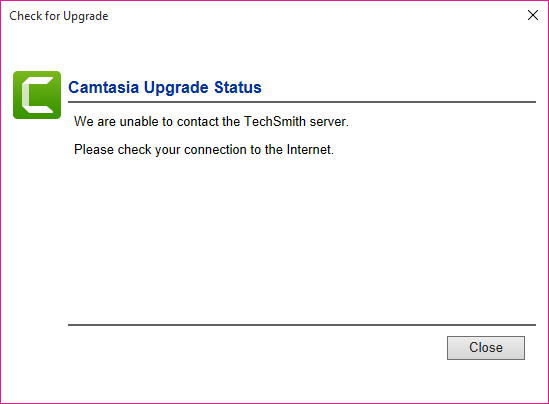 Solution
Reason 1: Blocked by Network
This error can happen if the connection is blocked by a proxy server or firewall. To make sure this connection is not blocked, be sure that CamtasiaStudio.exe is able to connect to download.techsmith.com over port 80 within your network.
Reason 2: TLS 1.0 Disabled
Another cause is if TLS 1.0 is deselected in the Internet Explorer options. As a workaround, follow the steps below:
Open Internet Explorer.
Click Tools > Internet Options > Advanced.

Select Use TLS 1.0.
Click Apply and OK.

Restart Camtasia and check for updates.