Problem
When installing the System Audio Component the System Extension is blocked or the install cannot be authorized and fails on macOS 11 and later.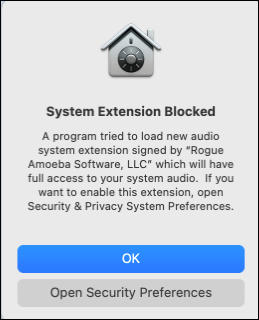 Solution
Please make sure you are running the latest version of Camtasia. From the menu bar, select Camtasia > Check for Updates to install the latest version. The latest System Audio Component can be installed from here. If the problems continue, try the suggestions below:
Option 1: Enable the System Extension
When the System Extension Blocked message appears click Open Security Preferences.
Click the lock to make changes and then enter the computer password and then click Enable system extensions...

To enable system extensions, you need to modify the security settings in the Recovery environment.

To do this, shut down your system. Then press and hold the Touch ID or power button to launch Startup Security Utility. In Startup Security Utility, enable kernel extensions from the Security Policy button. Use macOS Recovery on a Mac with Apple silicon.


Select Options to load the Recovery environment.

The Startup Security Utility can be accessed from the Utilities menu. Utilities > Startup Security Utility.

Here you will select your system drive and then click Security Policy...

Switch to Reduced Security and enable the first checkbox, "Allow user management of kernel extensions from identified developers". ACE is actually a standard audio plug-in, not a kernel extension. However, it receives enhanced privileges to access your system's audio, so Apple uses their existing kernel extension verification system on macOS 11 and later to allow ACE to load.
Enter your password and the new security policy is applied. Click the Apple menu in the top left corner and select Restart.
A new message stating the System Extension Blocked should appear. Click Open Security Preferences.

Open Security & Privacy if it did not automatically open.


Select General and click the Padlock. Then enter the computer password to make changes.

Click Allow next to System software from developer "Rogue Amoeba Software, LLC" was blocked from loading.


If the Allow button does not appear, restart your computer and open System Preferences again.

You're at the final step. A restart will be required. Please restart the computer and the TechSmith System Audio Capture Component will be installed.

Option 2: Re-Enable Component
If macOS still fails to show the correct prompt to authorize the ACE component for use, you'll need to manually authorize it. This is done by entering the Mac's Recovery mode.
To enter the Mac's Recovery mode, follow Apple's instructions for Intel or for Apple Silicon.

Once booted into Recovery, open the Terminal utility and enter the following commands pressing return after each one:

spctl kext-consent disable
spctl kext-consent add 7266XEXAPM
spctl kext-consent enable

After entering those commands, restart your Mac.

Follow the steps to reinstall the component through Camtasia.
Once ACE is properly authorized and installed it can be uninstalled and even reinstalled, without requiring any further system-level authorization.