Problem
Video appears blurry or low quality on the canvas in Camtasia or after producing the video.
Solution
Reason 1: Video is Resized (Scaled)
If you change the video dimensions between recording to production, it can create blurry video. To solve this problem, it is recommended to record, edit, and produce all at the same dimensions. In this example, all dimensions were set to 1280x720.
Set the Recording Dimensions
In Camtasia Recorder, enter the recording dimensions in the Width and Height fields.
Camtasia 2021


Camtasia 9 - 2020


Set the Editing Dimensions
In Camtasia 9 and later, select File > Project Settings > Canvas Dimensions to set the editing dimensions.

In Camtasia 8, click the Editing Dimensions button and enter the dimensions into the Width and Height field.
To view the dimensions for a video, right-click the video in the Media Bin and select Details or Properties.

Set the Production Dimensions
When you produce the video, make sure the production dimensions match the editing dimensions.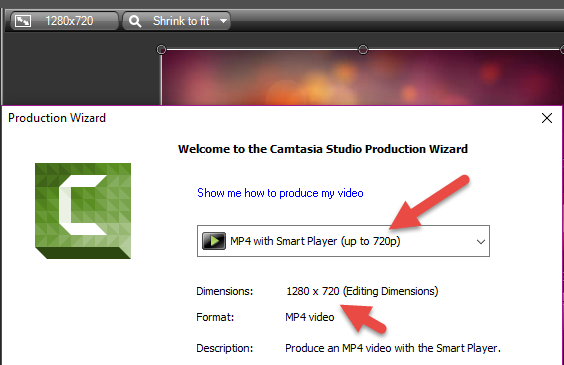 Reason 2: Adjust Playback Quality
The video may appear blurry on YouTube or Vimeo if the HD option is not selected. To select the HD option:
YouTube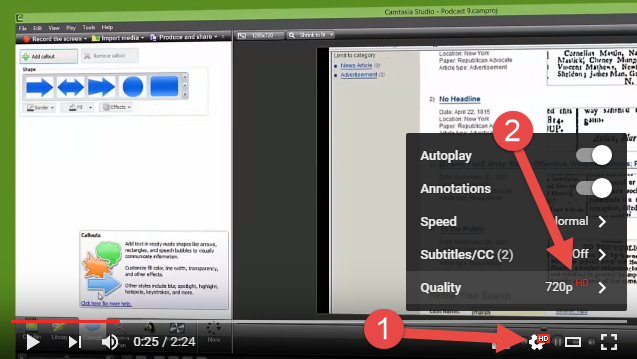 If you are still experiencing blurry video on YouTube, see the following articles:
Vimeo