The TechSmith account offers a few different options for signing in on a particular device using the account chooser.
Account Chooser
The account chooser makes it easy to sign in to your TechSmith account by remembering the accounts you have signed in with a particular device or browser. The account chooser is enabled by default by having the Don't remember me option deselected.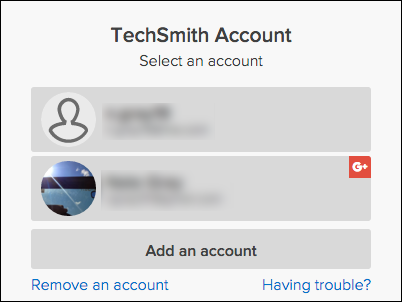 Your TechSmith account allows you to sign in using popular accounts like Google or Azure Active Directory. The account chooser will remember the service that you use to sign in for a particular device or browser, making it easier and faster to sign in. If there are multiple accounts listed in the account chooser, the icon in the upper right corner of the account ID will indicate the authorization service being used.
The account chooser can be disabled if using a public or shared device. To disable the account chooser, deselect Don't remember me.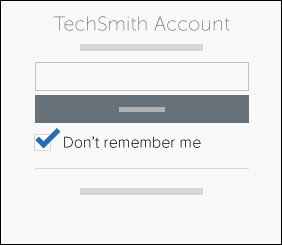 When Should I Disable the Account Chooser?
We recommend disabling the account chooser if you are accessing your TechSmith account on a shared device. Below are some examples of when you might enable or disable the account chooser:
| Type of Device | Used for | Enable/Disable |
| --- | --- | --- |
| Private | Personal | Enable |
| Shared | Private User Accounts | Enable |
| Family | Shared Profile | Disable |
| Shared | Lab/Conference Rooms | Disable |
| Public | Sharing with Many Users | Disable |
If using a shared device, you may want to sign in to a private window to prevent unauthorized access to your TechSmith account.
Use one of the following private browsing mode from your device:
Sign out of TechSmith by selecting the Avatar in the upper right hand corner and choosing Sign Out. Or sign out here.


Sign out of the third-party authorization. For example, if using Google, sign out of Google.
Clear the browsing history at the end of your session.