Problem
When I capture with Snagit, the options set in the Capture window are not used.
Solution
Snagit offers many different ways to capture. The capture settings applied depend on how you start the capture. To learn more about which capture settings are applied, see:
Capture with the Capture Window
When you open Snagit, the Capture window appears. You can take a quick capture, a customized screen capture (preset), or a video recording.
Capture Window: Click the Capture Button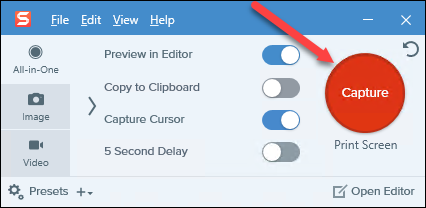 Click the Capture button on any tab in the Capture window to start a capture with the current settings.
Capture Window: Use a Preset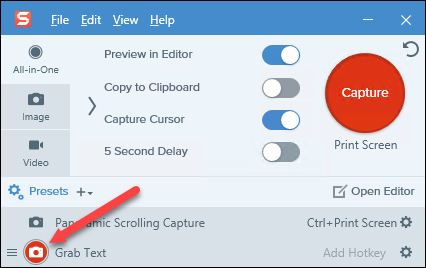 In the Capture window, click the Presets button.
Hover your cursor over the desired preset until a red Preset Capture button appears. Click the button to start the capture. Snagit takes a capture with the settings saved for the selected preset.
Capture with a Hotkey
Hotkey: Use the Global Capture Hotkey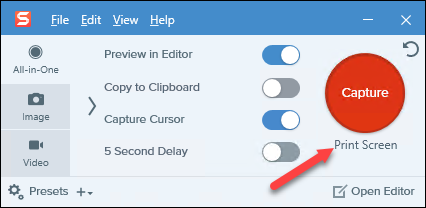 The global capture hotkey, Print Screen, starts a capture with the currently selected settings in the Capture window.
Hotkey: Use a Preset Hotkey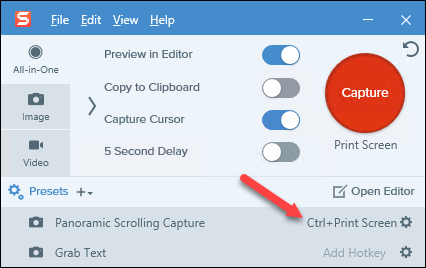 A hotkey can also be assigned to a specific Preset. Once assigned to a preset, the hotkey will always use the capture settings for that preset. To assign a hotkey to a preset, click Add Hotkey then press the key combination you wish to use for that hotkey.
Capture with OneClick
OneClick is the floating widget located at the top or side of the screen. See this article to learn how to turn OneClick on or off.
OneClick: Click the Capture Button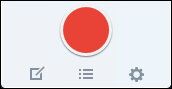 OneClick uses the default capture settings, regardless of which options are set in the Capture window:
Capture Type: All-in-One
Preview in Editor: Enabled
Capture Cursor: Enabled
Delay: None
Effects: None
Share: None
OneClick: Click a Preset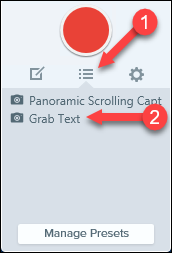 To capture with a preset from OneClick, click the View Presets button.
Click the name of the preset to use for the capture.