Capture and annotate an image with TechSmith Capture.
TechSmith Capture is supported on macOS 10.15 or earlier. To learn more about running TechSmith Capture on macOS 11 Big Sur, see this support article.
Capture an Image
Install or open TechSmith Capture application.


For issues installing TechSmith Capture on MacOS 10.15 Catalina, see this

support article

.

The Capture dialog appears. Click the Capture button or press Shift+F11 (Windows) Command+Shift+1 (Mac).



To change the upload destination, click > Destination.

The orange crosshairs appear. Click and drag to select an area.
Click the Image Capture button.

The Image Preview dialog appears. Select a color and a tool to draw annotations on the image.

To change the magnification, click the zoom in or out buttons on the toolbar.

Click one of the following options in the Preview dialog:

Click the Upload button to upload your content to the selected destination (Screencast or Knowmia Pro).
Click the Upload Later button to add the capture to the Upload Queue to upload at a later time.
Click the Save button to save your content to a location on your computer.
Click the Copy button, to copy the content to your clipboard and paste in other locations.
If you click the Delete button, the content is permanently deleted.
Tip for Windows Users
For quick access, you can add TechSmith Capture to your taskbar. Click the Windows Start button and browse to TechSmith Capture in Apps. Right-click the TechSmith Capture option and select More > Pin to taskbar.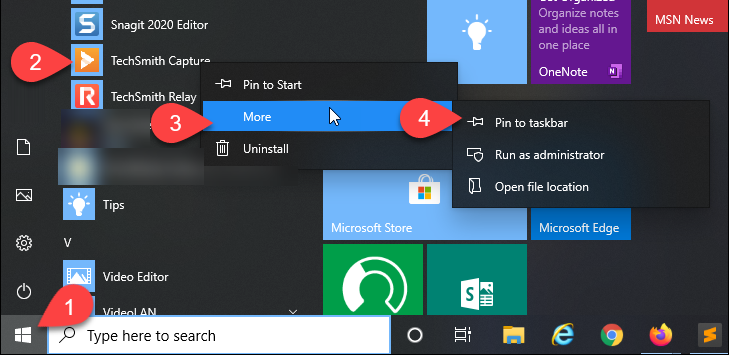 Did you find what you were looking for? Provide feedback.